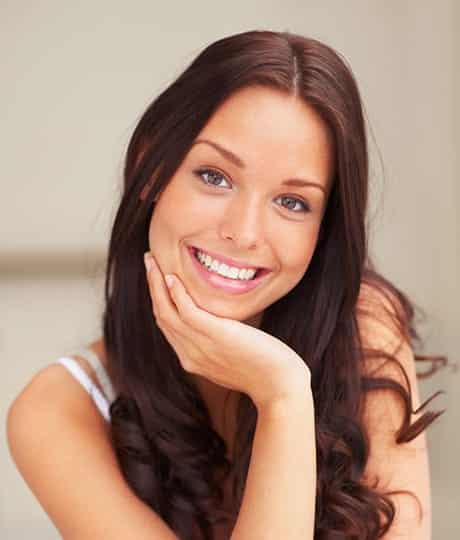 Click to Hear Dr Lindsey Respond to More of Your FAQs →
Frequently Asked Questions
Whether you've done your research or are just getting started, below are some of the most commonly asked questions.
What's the difference between a full face lift, upper and lower lifts, Mimi-lifts and neck lifts?
Full facelifts imply that the forehead, middle of the face, jawline and neck are all addressed with the same procedure. Since most women don't necessarily need, or want, the forehead addressed surgically, the choice then is between a traditional lower facelift and a mini lift. Early in his career, Dr. Lindsey only offered traditional lower facelifts under anesthesia at a surgery center. However, with time and after having done several hundred, he started doing a smaller procedure in the office under light sedation. Simply time and practice allowed him to expand his ability to anesthetize most of the face and neck, virtually to the extent of a traditional facelift, but without anesthesia risks. And over time, both Dr. Lindsey and his patients, have chosen roughly 4 to 1, a slightly smaller procedure under sedation versus a bigger case under general anesthesia. With proper patient selection, LESS really can be more than enough.
Are there alternate, less invasive things I should consider?
Certainly. For younger folks, botox and fillers are the best way to start. Chemical peels, maybe a new hairstyle, definitely diet and exercise OUGHT to be everyone's first steps anyway. Since we do not try to "upsell" procedures, our patients can choose to start where they want, or maybe even wait until they actually would see more benefit from a procedure.
What are the pros and cons of doing the procedure in the office using local anesthesia?
You are trading roughly 5 minutes of numbing up…like at the dentist, although you likely will have had some Valium, so it isn't quite as bad…in order to avoid general anesthesia. Now general anesthesia is very safe, but not as safe as not having general anesthesia with its associated heart and blood clot risks. It is a bit less expensive under local, but the big issue is the risk, albeit low, of anesthesia.
How long will I be out of commission?
Probably a week because you MUST wear a head wrap for a week. Occasionally, and it seems like it's always realtors…there is bruising for a little longer, but 80-90% look fine for most occasions on day 7.
How much will it hurt, and for how long?
Having done 4000…consistently men say it hurts the most. Next, nurses and women who have not had children. Very consistently, those groups say pain is significant. For almost every other woman who has had at least 1 child….it hurts the first and second nights.
How much will it cost?
ALL of our prices are right on our website for all to see. Our short scar facelift currently is $6,000.00.
Is there an age or stage of life at which having the procedure makes more of a difference?
We have done a short scar facelift on people ranging from 36 (and she did actually have enough issues to benefit from it) to 85 (and she probably could have had a bigger case but did not want anesthesia). Over 23 years, there are two age peaks for females: 44-year-old women and 57-year-old women. The first group tends to want a conservative "nip and tuck" to keep from aging quite as quickly as their friends. The second group wants to look refreshed for the workplace, dating scene, or an upcoming event such as a child's marriage.
How long will the results last?
On average, our typical short scar procedure patient comes back at 7 years for a "tune up." Some people are very self critical and are talking about a second procedure at three years and we generally try to hold them off until they actually "need" something. Thinner and more angular faces have results which last longer.
What are the risks?
So far, in 23 years and 4,000+ lifts of all sizes and shapes, we have had ZERO injuries to the nerves that work the face. We have had exactly one infection in non-smokers and that was in a lady who likely had radiation to that side of her face. And roughly one person per year has bleeding the night of the surgery requiring them to come back to the office. So…pretty safe. Correction. VERY safe.
What have you seen patients do that gets the best results, and minimizes difficulties? (Other side of that is: What have you seen patients do that sabotages the best outcome?)
The big two issues are patient anatomy and following instructions. In the anatomy criteria we mean that thinner, more angular faces simply age better and have tissues which are easier to pull and lift than rounder faces. Dr. Lindsey can come across as blunt, but he wants his patients to know up front what he is thinking and what he can and can't do before they sign up. The biggest predictor of how a woman, or man, will age- at least how their lower face will age- is the distance they have between their chin and upper neck. That controls everything. Fat can be removed, but if the anterior neck is even with the chin, the patient will be told they are a poor candidate preop.
On the other hand, we've had hundreds of women who simply won't be compliant with wearing the head wrap. In fact, we had one lady remove it upon leaving the surgery center after a traditional lift and then wonder why she got less of a result than she expected. Watch our videos with actual patients. The wrap is a hassle, but it doesn't hurt and it makes everything "stick" into place!
Why Dr. Lindsey and not some other plastic surgeon?
Lots of people can do a fine facelift. And one doctor's facelift may not be anything like the doctor next door. Volume is a good predictor of someone's ability, but not a guarantee. A doctor probably learns most of the tricks- or ways to get patients what they want without getting into trouble- in the first 100 or so of any procedure. Pick someone who has done at least 100. Next, do you, the consumer, like a conservative procedure or a pulled appearance? Dr. Lindsey does NOT like the pulled appearance, but some people do. Just watch TV and you'll see plenty of examples. Whoever you are shopping with ought to have plenty of examples….look at them. You don't have to like every single result, but if in general you think that doctor does good work, you're probably wise to consider them. If it's not what you like, OR if you don't get to see more than a few pictures of someone who looks nothing like you, go somewhere else. We have hundreds of examples of our own patients in all sizes, shapes, and ages. That way you can get a good understanding of Dr. Lindsey's goals and abilities.
What questions should patients be asking their prospective surgeon?
There are long lists of questions for you to ask your doctor on multiple consumer-oriented websites. Some are crazy questions, some are appropriate.
We'd suggest some of the following:
"Do you like your job?" If they look all frazzled…how are they going to look the day or your case?
"How many have you done?" Ought to be several hundred and you ought to see some pictures of different patients with different facial issues.
"Does your staff have a lot of turnover?" Office turmoil is never good. For anyone.
"Show me a picture of someone who has my problem."You might not look exactly like the person in the picture but you should see someone with a little, medium, or big neck issue that is similar to what you have.
"Do I need something else?" Do you really? Or are you being upsold?
"Why do I have to wear that silly head wrap?" We attempt to explain that in great detail to our patients. It is critical. If other doctors don't think it is, well they must have their reasons, but make sure you understand that having done THOUSANDS, that wrap is important.
Ask a few questions like this, but our suggestion is to look at the doctor's work, and see if you think he/she has the same philosophy as you want. It seems like more and more doctors are trying to upsell and talk the patient into more and more profit centers to help the doctor's wallet, not necessarily the patient's desires. Personally, if you get that impression anywhere, Dr. Lindsey thinks you ought to get another opinion. There is never a rush to have an emergency cosmetic surgery!