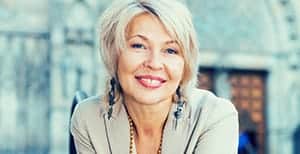 Botox® Quick Facts
Designed to lift and tighten redundant skin of the cheeks and neck.
Cost: $4,500-$10,000
Downtime: 1-2 weeks
Botox® and Fillers
Botox® and soft tissue fillers are options for patients looking to slow down the appearance of aging or to maintain their appearance after rejuvenative procedures.
Botox® relaxes the muscle that it is injected into, thereby reducing wrinkles caused by repetitive expressions like frowning, lifting the brows, or crow's feet with smiling. These days it seems like every spa or even dentist is offering Botox®. Since doctors pay virtually the same price for a bottle, you need to ask how some places offer it so cheap? That's easy….either they sell at a loss to stimulate traffic OR they use more dilute medicine. Dr. Lindsey always uses "fresh" Botox®, and he uses the same amount in patients as he does in his office staff and even himself. He's done that since 1995, and finds that has been better than offering bargains or trying to do a lower treatment to fit a budget by skimping. Really the only variability is how expressive the patient is. For example, in a man who is perhaps less expressive than some (Dr. Lindsey), he can often see results lasting 5 or more months. Conversely, in an expressive female (Dr. Lindsey's nurse or wife), that same dose may last 3 months. We treat the frown area, crow's feet, and horizontal forehead lines. We do not offer Botox® in the neck or around the mouth.
For soft tissue filling, we offer a choice of Juviderm® and Radiesse®. Both are safe options that have been around for years and likely last for 10 months to 2 years, depending on the patient and the areas treated. Most commonly, Dr. Lindsey treats the smile lines – those lines coming down from the nose and corners of the mouth. Plumping of the lips is also a common procedure, particularly for younger ladies who just have small lips, and older women who have lost some of the soft tissue in the lips from aging. On average, if the lips are treated, there is swelling for 3 or 4 days. Most patients plump up their lips on Friday and look fine on Monday for work.